Chances are you read the title of this article and asked yourself, "Why would I need to use six lotions on my face if women don't even go to that extreme?" Well, for one, you're a guy and you need all the help you can get when it comes to being beautiful. Secondly, and more importantly, you don't want to wake up when you're 50 with a face that looks like a crumpled plastic bag.
Guys have facial issues too, even if 99 percent of them won't admit it. Whether it's preserving your skin from looking aged or protecting it from sensitivity, guys need lotions too. OK, so you might use all six of these every day, but if you're smart you'll use all of them at one time or another in the next week. With that said, here are six lotions you should add to your collection of colognes ASAP.
Barc Bump Down Lotion
This product helps reduce facial irritation and ingrown hairs that result from shaving or waxing. This lotion is enriched with glycerin and chamomile, keeping your face healthy and hydrated. What makes this razor bump product different from others on the market is that it doesn't have alcohol in it. Another added benefit is that it's unscented, so you can keep your face smooth without an awful stench. You can purchase a 3.4 ounce bottle of Bump Down for $22. When it comes to your face, it's worth it.
PFB Vanish Ingrown Hair Lotion
This lotion is also formulated for men who have problems with ingrown hairs and razor bumps caused by shaving, tweezing, waxing, laser hair removal, and electrolysis. What makes this product unique is that you can apply it without using your hands and getting messy. The roll-on applicator easily distributes moisturizing ingredients that exfoliate your skin. You can purchase a 4 ounce bottle of PFB Vanish for $22. There are also bigger size options if you expect to use more.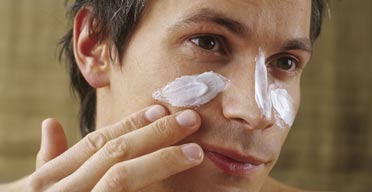 Neutrogena Rapid Clear Skin Toning Lotion
Neutrogena's 2-in-1 Fight & Fade Skin Toner reduces acne breakouts in a few hours. This lotion helps fade the scars and marks that acne leaves behind, making your skin look more even-toned. The formula used in this product dissolves away oil and has been clinically proven to reduce pimple size, redness, swelling in less than eight hours. It also helps speed up surface cell exfoliation, helping your face heal in as little as a week. An 8 ounce bottle of Rapid Clear costs $6.99.
L'Oreal Men's Expert Comfort Lotion
The name says it all, as L'Oreal has made a product especially for men that helps fight wrinkles, firm skin, and sooth razor burns. Men who use this product usually apply it after they've shaven as it helps to hydrate their skin. Another great feature of the Men's Expert Comfort Lotion is that it comes with SPF 15, so men who are concerned about sun damage and skin cancer have a broad range of UVA/UVB protection. You can buy a 3.3 ounce bottle of Expert Comfort for $7.99.
Anthony Logistics For Men Facial Moisturizing Lotion
No matter how stubborn you are about using facial products, you should definitely use a moisturizing product that helps keep your skin in tip-top shape. Anthony's moisturizing lotion has extracts of sugarcane, orange and lemon (natural AHAs), and sugar maple that help erase blotches and fine lines. It also has panthenol, which retains moisture, and vitamins A, C, and E that nourish the skin.
Additionally, this lotion protects your skin from the sun with SPF 15. A 2.2 ounce bottle of this Facial Moisturizer will run you about $32.
Jack Black Double-Duty Face Moisturizing Lotion
If you want a moisturizing product that has natural ingredients, minerals, and vitamins that visibly improve your skin's quality, then Jack Black's lotion is sure to do the trick. Not only does it offer UVA and UVB protection like some of the other products mentioned, but it doesn't include harmful chemicals like parabens, sulfates, synthetic fragrances, synthetic dyes, and petro-chemicals. You can buy a 3.3 ounce bottle of this alcohol-free and odorless Double-Duty lotion for $27.
Just because you're a guy doesn't mean you shouldn't groom yourself and take advantage of the products available to you, especially if you want to keep your healthy and handsome looks.
Do you use any lotions? Don't be shy, leave a comment below and let the other bros know.