Las Vegas is a town that can offer you pretty much anything, except a selection of craft beers. Although the city is essentially fueled by alcohol, finding good beer takes a little work. We are being a little harsh on Sin City, but for a place that prides itself on offering luxury everything, you'd think it would be easier to enjoy the finest brews. Maybe it just isn't cool to be dancing with a pint in the club (though we feel anything done with a drink is automatically awesome). If on your next attempt to re-create The Hangover, you get tired of tripping over jovial males trying to attract females with their bottle service, check out some of these locations keeping it real one pint at a time.
The Yardhouse
You may have been to a Yardhouse in some other town; it is a chain after all. Generally we stay away from franchises, but this one does alright by us. The Yardhouse is known for its large and diverse selection of beer. With 100+ taps, you are sure to find something you love or beer you have never tried, or maybe even a style you've not sampled. If you can't decide, the staff is well trained to make a suggestion. Find a beer you can't get enough of? Order it by the yard. Trust us. The food is also pretty tasty and they pump classic rock. Awesome. In Vegas, the Yardhouse is located in a relatively new shopping center, Town Square, south of the strip. Don't be surprised if you find less striped shirts and sparkly dresses inside as this is place is frequented by plenty of locals and more laid back crowd.
Crown and Anchor
Another favorite of Vegas locals is the British pub Crown and Anchor. Here you will find a number of taps, most of the dedicated to imports such as Harp, Bass and Chimay (yeah, we know Chimay is not from the UK). Paired with the brew is a menu full of traditional pub grub from across the pond like Bangers and Mash and meat pies. The pub also televises plenty of soccer (football) matches, if you're into that sort of thing. The local crowd is bound to include plenty of UNLV students, who prove it is possible to better your life while spending an extended time in Vegas.
Triple Seven Restaurant and Brewery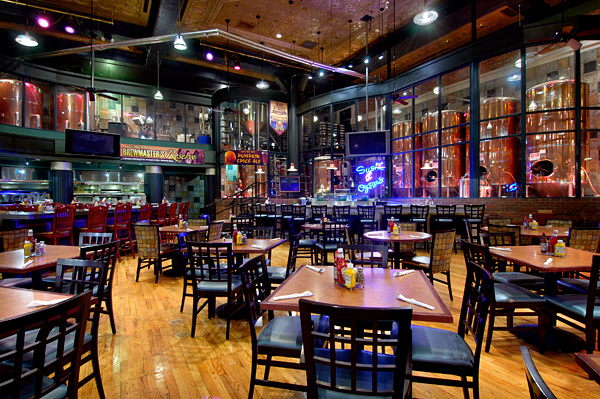 If you must gamble while you drink (trust us, we understand), head to the Triple Seven in downtown Vegas. Note: "downtown" does not refer to the strip, but rather the area around Fremont Street, where the World Series of Poker is played. This brewpub is located within the Main Street Station Casino/Brewery/Hotel and looks pretty much like you'd expect, decked out with plenty of wood, brick and a view of the brewing vessels. The beers and food are a pretty standard American mix, featuring burgers, Pales, steaks, IPAs, pizza, Stouts with some sushi and Cherry beer thrown in for variety. The best part about the place though is the price. In a land where some pay $500 for a single bottle of Grey Goose, you can get $1.50 pints of these handcrafted brews from the casino bar. You are practically making money drinking at those prices.
Big Dog's Brewing Company
Big Dog's has several off-strip locations to quench your thirst. They are the original microbrewery in Las Vegas, a malty oasis in the desert. When you visit, you'll always find 7 to 12 of their own beers on tap, along with guest taps of other brews they love, proving once and for all, you cannot have too much beer. Tuesday's are wonderful at Big Dog's, as they offer $2 off pints, $8 off pitchers and 2 for 1 cheeseburgers! Real Big Dogs order 2 burgers and pitcher for themselves. Also, the building for one of the locations is shaped liked a doghouse, one in which you won't mind finding yourself.
Sadly, none of these bars or breweries offer Keg Service. No mixers needed, just a bunch of cold pint glasses. Now that would be the way to watch the game or kick it by the pool. A keg always brings the party. Alas, we digress, but at least now you know some spots for good brews. Remember, it's not gambling if you know you are going to win.