What makes a golf course great? Many traits could factor into the scoring, such as playability, scenic views, location, history, cost, etc. Since summer is approaching and golfers across the country are breaking out their sticks, we thought we would partake in this entirely arbitrary process and rank some of our favorite American courses. With input from experts and our golfing intern, here are 10 through 6 on our list.
#10: Augusta National, August, GA
Possibly the most well known course in America, Augusta National, was designed by Bobby Jones and, of course, is the host of the Master's golf tournament. Augusta has seen countless unforgettable moments of golf history. The course, continually updated, has withstood the test of time and remains a beautiful place to play golf. Just watch the Masters on ESPN HD and you'll know what we mean. The reason it is not higher on our list is because you are not playing it, unless you are a buddy of Willy Gates. The membership is very limited and not for sale; you must be invited.
#9: Old Works, Anaconda, MT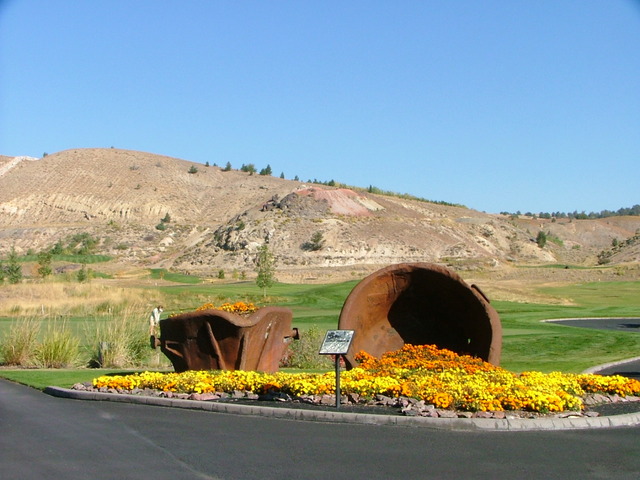 This is a bit of a wild card, but hang with us. Old Works is Jack Nicklaus designed course, public and cheap. $50 gets you 18 holes of a challenging and scenic course. As you play you'll see nods to host town Anaconda's long smelting history like the black slag sand traps (they play a little heavy…). Cool fact about the course: it is built on a Superfund clean up site. If you play in the afternoon, be prepared for wind and consider paying $15 for a cart, the course plays and walks long. Unless there is a company tournament, you can probably walk on, which is ridiculous for a course this nice.
#8: Kapalua Golf Course (Plantation), Kapalua, Maui, HI
Golfing all over Hawaii is great, because you are in Hawaii. The Plantation Course at Kapalua, though, sets itself apart. The public course hosts the Mercedes-Benz Championship in January each year. The pros eat this course up, routinely shooting double digits below par for the tournament. Don't worry if you find yourself somewhere north of that, you probably won't even notice. The course distracts you with its appearance of enormity as it stretches across the natural Hawaiian landscape. Massive fairways seem to melt into the ocean, and then into your heart. You feel like the island wants you to be playing golf right there.
#7 Shadow Creek, Las Vegas, NV
Sometimes a course transports you away, offering an experience so different from the surrounding area you forget where you are. As you likely arrived in a limo, it might be hard to forget nearby Vegas, but Shadow Creek does what it can. Tom Fazio designed this course to be surrounded with huge pine trees, and filled with lakes and streams. The course, about 20 minutes north of the strip, rolls up and down through the desert as Fazio literally dug 60 ft down in some locations, only to pile it 60 ft high in others. To play, you must be a guest of the MGM Grand or Mirage and pony up $500 for a round, during the week. On the weekends, it is invitation only. At least you know it won't be crowded.
#6 Chambers Bay, University Place, WA
Don't let the location fool you, you are in Tacoma, WA. A city known more for its odor than its beauty, Tacoma really comes through with this relatively new gem. Chambers Bay is a links style course plucked from Ireland and placed on the coast of the pacific ocean. The sea views are stunning and the massive sand dunes are memorable. Chambers keeps the course pristine by banning golf carts; it's a walkers only playground, so make sure to eat your Wheaties. The course quickly made a name for itself by being awarded the 2015 US Open after only 7 months of p. Spectacular from start to finish, Chambers Bay is course that has not forgotten it routes, offering deep discounts to local Pierce County residents.
(stay tuned for part 2 next week)