You're a man, so you probably think growing a thick beard and keeping a bottle of whiskey handy counts as preparing for a winter trip. While no one with a set of real balls would argue the importance of those two items when facing cold conditions, you'll likely die with your left hand clutching the bottle and your right hand stroking your frozen beard if that's all you rely on.
If you're planning to take a hunting, skiing, or camping trip during the upcoming winter months, you'll want to pack these seven essential items so you're prepared for any situation that may arise.
Keep Your Head Warm With an Ushanka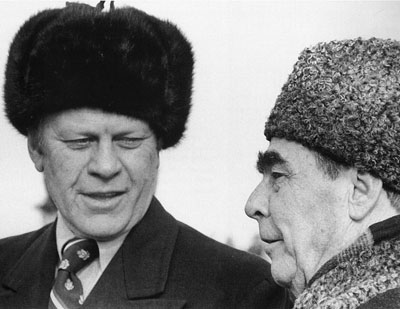 This distinct Russian hat not only protects your head from hard falls on ice or packed snow, but it also helps the baldies keep their heads warm and toasty. While the military versions of this hat are made from mouton or sheepskin, non-military hat models are made from arctic fox, mink, rabbit, muskrat, and other types of furs. The hat also comes with ear flaps, so you can tune out your babbling buddy or protect your ears from the freezing conditions.
Tear Things Apart With a Chainsaw
As much as it might surprise you, chain saws are used for more than just trimming down your Christmas tree. Whether it's cutting a hole in the ice on a lake for fishing or cutting pieces of firewood for warmth, chainsaws come in handy when you're in the middle of the woods during the winter. Be careful though, because the last thing you want to do is accidentally slice your skin open and bleed to death while staring up at the falling snowflakes.
Entertain Yourself With a Playboy Magazine
Cuddling up with your buddies during a camping trip isn't exactly manly, but that doesn't mean you can't break out the Playboy and warm up to the sights of the world's sexiest ladies. While your fellow outdoorsmen might wonder why you're traveling with such a magazine, they'll begin to understand after you've spent weeks in the woods without a woman in sight. In addition to the pretty pictures, you can also share some of the stories while gathered around the campfire.
Protect Your Body From the Cold With a Fur Coat
Unless you plan on killing a bear and using its fur to keep warm, you should probably plan on traveling into the wilderness with a fur coat that's already been made. If you're worried about upsetting the animal lovers in your group, buy a faux fur coat instead. Although they're not as warm and comfortable as the real thing, they'll help you survive the tundra conditions you'll face during the winter months in the wilderness. Picking a dark color of fur will ensure you don't stand out and become prey.
Prepare Yourself for the Worst With Explosives
You might ask yourself, "Why am I bringing explosives on a camping trip with my buddies?" While some of your buddies might question your motives when you tell them you brought some along (they'll also ask how the hell you got them), you shouldn't worry too much about what they think. After all, when you have a pack of wolves and a pair of grizzly bears chasing after you, you'll be called upon to use your explosives and save the day. How's that for going from a lunatic to a hero?
Avoid Infections With a Bottle of Whiskey
OK, so this item was mentioned in the introduction, but it really is an important item that you should carry with you at all times during your winter excursion. Not only will whiskey help keep you warm on those nights you can't start a campfire, but it can also be used as an antiseptic if you do happen to slice your skin with the chainsaw or injure yourself while lighting the explosives. Also, it's one hell of way to make the campfire conversations a bit more honest and interesting.
Relieve Your Pain With Aspirin
Whether it's relieving minor pain or alleviating a whiskey hangover, Aspirin will come in handy many times during your winter trip. Just be sure to pack enough for everyone because more than likely you won't be the only one experiencing the symptoms of a long night of drinking around the fire.  If you do happen to run low on your Aspirin supply, consider drinking less. Of course that's probably not possible, so just bring the biggest bottle you can find with you.
Are you planning a winter trip with the guys? Where are you headed? Although a warm pair of socks and some chap stick might help you during your trip, it won't might make it fun. You need a ton of cool tech & gear to make the most of your experience.
What items are you taking with you? Leave a comment below and let us know.