For the health conscious, ironically, the upcoming pinnacle of athletic achievement for American football players is a day worth fearing.  This unofficial national holiday basically assures and all-day party filling you to the brim with high-calorie beer and higher-calories plastic plates stacked with delicious but fattening snacks.
If you're low on will-power, there's not a ton you can do about this other than waking up for a morning 15-miler.  But, one thing you can do is bring some of your own, healthy food. Or, if you're staying at home with your awesome entertainment center, cook it all yourself. Either way, you can combine them with these light beers that still taste alright to have a relatively healthy, guilt-free Super Bowl Sunday.
Goat Cheese, Portobello and Corn Whole Wheat Pizza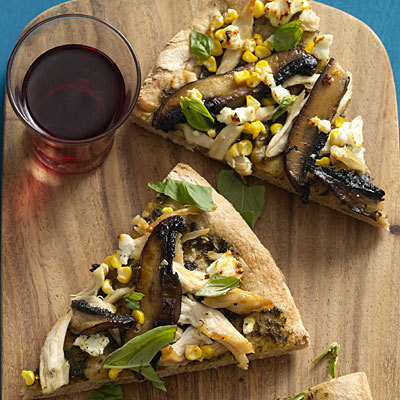 Instead of Pepperoni Pizza from Pizza Hut , which packs 250 calories and 11 grams of fat in each slice, try: whole wheat pizza crust with yummy savory toppings…definitely a crowd pleaser.
Prep Time: 15 minutes
Cooking Time: 20 minutes
Serves: 8
Ingredients:
1 shell Whole Wheat Pizza Crust, Entire
3 serving goat cheese
1/2 serving Portobello Mushroom
1/2 serving Roasted Corn
1/2 serving Organic Baby Arugula
1 serving Marinara Sauce
Directions:
1. Heat oven to 400.
2. Place pizza shell in oven for 5 minutes. Remove.
3. Spread Marinara evenly over crust, back into oven for 4 min. Remove.
5. Add crumbled goat cheese, Portobello, corn: back into oven for 6-7 minutes (keep an eye on it….cook to your crispness).
6. Remove.
7. Sprinkle with arugula.
Nutrition Facts
Serving Size: 1 slices
Calories 144; Calories from Fat 43
Total Fat 5.1g
Dietary Fiber 3.2g
Protein 6.8g
Citrus Chicken Sate w/ Peanut Sauce
If you've got a weakness for Fried Chicken Wings , with up to 250 calories and 16 grams of fat per wing, try this healthy take on a party favorite! You will need wooden skewers to grill the chicken on.
Prep Time: 40 minutes
Cooking Time: 5 minutes
Serves: 24
Ingredients:
4 lb Chicken, Breast
1 cup Orange Juice, Raw
4 oz Lemon Juice Raw
2 tbsp Canola Oil
1/5 tsp Salt
1/2 tbsp Pepper, Black
4 tbsp Natural Peanut Butter
2 tbsp Lime Juice
1 tsp Low Sodium Soy Sauce
2 tsp Brown Sugar
Directions:
1. Soak wooden skewers in water for 30 minutes.
Whisk together: orange juice, lemon juice, canola oil, salt and pepper.
2. Add chicken breast chunks and let marinate for 30 minutes.
Whisk peanut butter, lime juice, soy, and brown sugar and place in a small dipping bowl
3. Heat grill.
4. Place 4 chicken breast chunks onto each skewer – grill approx 2-minutes for each skewer.
5. Remove from grill add to platter with peanut sauce.
Nutrition Facts:
Serving Size: 1 skewer
Calories 121; Calories from Fat 55
Total Fat: 6.1 g
Dietary Fiber 0.2g
Protein 13.5g
Caprese Kabob
Instead of Spinach and Artichoke dip , which can pack 312 calories and up to 21.44 grams of fat, try A fun and easy to eat party take on an ever popular Caprese Salad. Your friends will be so impressed!
Prep Time: 15 minutes
Serves: 8
Ingredients:
2 serving Tomatoes Cherry
1 cup Basil, Fresh
8 serving Mozzarella Cheese Part-skim
3 serving Olive Oil
3 serving Balsamic Vinegar
2 serving Coarse Kosher Salt
1/2 tblsp Cracked Black Pepper
Directions:
You will also need bamboo forks – or square toothpicks.
Cut the mozzarella into small slices/squares.
Cut the tomatoes in half.
Place a piece of the mozzarella and a nice leaf of basil in the middle of each tomato then pierce with one of the bamboo sticks.
Whisk together oil, vinegar, salt and pepper and drizzle over completed mini kabobs.
Nutrition Facts:
Serving Size: 2 mini kabobs
Amount per Serving
Calories 147; Calories from Fat 49
Total Fat 11.6g
Dietary Fiber 1.1g
Protein 8.8g
All recipes courtesy of Livestrong.com.