Flying around the world in economy class isn't exactly the most luxurious or exciting way to travel. If your legs aren't getting numb because of the cramped seating space, chances are the mediocre food has either left your stomach twisting in knots or you're hungry because you decided not to eat it. Well, with a little extra money invested toward your trip, you could be flying in style.
With that said, here are the five best first-class seats on the planet.
Singapore Airlines
Singapore Airlines was the first airline to introduce the massive double-deck Airbus A380, using much of the extra space to cater to its first-class passengers. If you're looking for more than a comfy seat to sip your cocktail on while enjoying an in-flight film, check into booking a full suite from this airliner. You can close the suite from the aisle with two sliding doors.
The suite also features two single beds (or one double bed if you're getting extra cozy), a large flat screen TV, and reclining seats for relaxation.
Emirates
Much like Singapore Airlines, Emirates offers its onboard first-class travelers suites to stay in. The difference? In addition to the same features offered by Singapore Airlines in its suites, Emirates gives guests the choice of using an in-flight shower spa. The spacious restrooms in the suites have windows and are equipped with the first shower on a commercial flight. Although your showering time is limited to five minutes, the odds of you arriving to your final destination refreshed are extremely high.
Qatar Airways
If your dining options onboard an airplane mean more to you than accommodations, then perhaps traveling with Qatar Airways is in your future. In addition to its long list of fine wines and champagnes, Qatar offers each first-class traveler a ten-course meal that includes lobster, caviar, Arabic mezzas, and premier chocolate. You also have a range of channels to watch while sitting or lying in your ultra-cushioned seat. All other traditional first-class amenities are also available upon request. You can even check out Groupon for possible opportunities to snag this treatment at a margin of the cost.
Cathay Pacific Airways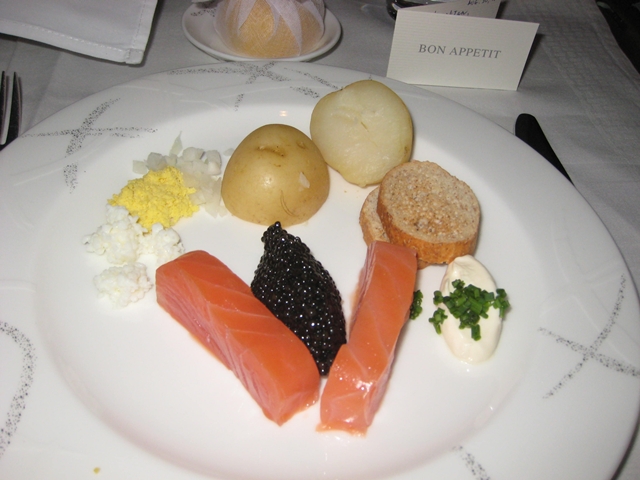 This Hong Kong-based luxury airliner hasn't upgraded its fleet to the ultra-wide A380 yet, but it makes do with its 747 model to provide the best in first-class services. Every meal you order onboard the plane is made to order, covering a range of Asian and international cuisines. Also, for entertainment, you have a choice of more than 100 movies, 500 TV shows, and 22 radio channels – all available in 10 languages – on your personal screen.
Keep in mind there are only six to nine first-class suites available onboard each of Cathay's planes, so be sure to book early so you're sure to experience the luxury this airline has to offer.
Virgin Galactic
If sitting in first class on a plane traveling to an exotic destination isn't good enough, then chances are you're ready to fly on a different kind of adventure. The Virgin Galactic is a space plane that sends six travelers at a time into zero gravity on the edge of space. The launch pad is in New Mexico, and the plane itself has a highly stylized cabin and reclined loungers located near windows for maximum viewing pleasure.
Since this first-class seat is in the early stages of being built, you still have plenty of time to save for the $200,000 airfare.
Want to have fun? Travel first class with any of these airliners.
More on the Made Man YouTube Channel
Subscribe