By: Ben Engler
If you live on the East Coast, you are thankful you invested in a snow-blower last year. If you have been watching the Olympics, though, you know that Winter ended about one week before the skiing and boarding events took place. Slushy runs and bad goggle tans mean the boards are about to back in the closet, replaced by your clubs. Yes, golf season is fast approaching, especially now that Tiger has left sex camp (it's like fat camp, but instead of teaching you to less, they focus on controlling your wang). In preparation for this year, MadeMan visited the Seattle Golf Show to learn if anything awesome can be expected.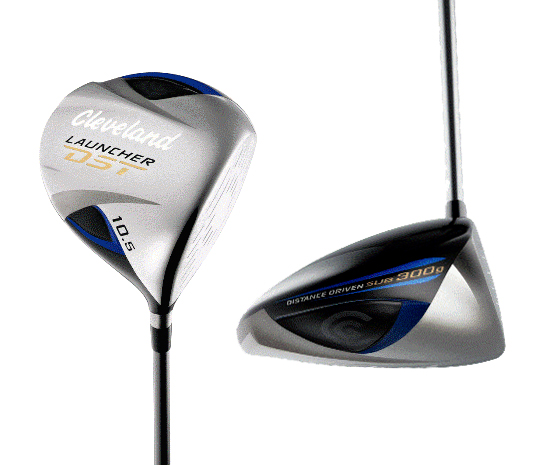 At a time when drivers are becoming increasingly tricked out and super-sized, the DST remains refreshingly classic, at least by today's standards. The 400+ cc head is still quite a bit larger than what you would find in 1999. But what it does not have are moving parts, odd designs, or a high price tag. We tested the standard DST and DST Tour models, and were impressed with both. The standard DST is designed 25% lighter than the standard driver, allowing you create more head speed. Very fun to swing, and you don't have to throw your back out generating a high club speed. The tour model is the same basically the same design, though a little heavier and featuring a 2 degree open face. We preferred the tour model for its crisp, balanced feel through contact. Both are a steal at $300.
Speed is a relative term when speaking about golf carts, and LSV does stand for "Low Speed Vehicle," but a golf cart that moves 23 miles per hour certainly stands out to us. Club Car's street legal version of its more traditionally known golf carts was created in part to take advantage of a 2009 tax break being given for purchasing electric vehicles. The Villager is equipped with blinkers, windshield wipers, zero emissions, and of course, a top speed of 23 mph, everything you need to rule suburbia. If you had purchased the vehicle last year, you would have received a nearly 60% discount via the tax credit, though there is about a 10% break still available for '10 and '11. The only "problem" with the cart is that its speed cannot be governed, thus golf courses won't allow it. Honestly though, if you roll up to the links in your own cart, who is going to break out the speedometer? If you can't shoot lower than the competition, at least you'll beat them to the bar.
There is a growing website attempting to make finding and booking your tee time easier. Since you only communicate to friends via Facebook, why risk the social awkwardness of speaking to the pro-shop over the phone? With GolfHub.com you can search for open tee times from a number of there partner courses in a given region and them book them without a fee (playing the course, is not free). For example, if you live in LA, and wanna tee off around 7 am, you search with those parameters and all available slots will appear from a list of courses, saving you the trouble of contacting multiple places. Most of the courses have user reviews to go along with them, so you can choose the spot best for you. Specials are sometimes offered if you book through the site as well. When asked why we should use GolfHub.com and not the phone, the cute girl working for the site replied, "Because you can do it in your underwear." Sold!
Hitting a ball into a screen showing a computer generated graphic has been around for awhile. This indoor golf was amusing, but not that fun, considering the accuracy of the device was debatable and the cost was prohibitive. It is 2010, though, and golf technology has evolved. Teaching centers are now able to use these golf simulators to correct swings with excellent results, in addition to allowing students to play Torrey Pines. The setups use infrared tracking to review your swing and create visual graphics that show why your always playing from the rough. One can also set up custom scenarios to practice specific shots and yardages. The computer can show you your exact ball flight as well as report club head speed, launch angle, distance and more. Hitting 50 balls with your seven iron tracked by the program will tell you once and for all exactly how far you do hit it. Basically, the computer knows your game better than you, but it is willing to share. Still concerned about the technologies limitations? We asked some teaching pros for their true feelings on the equipment, and they responded saying they participate in league night, on the system, it is so enjoyable.
Days before the Seattle Golf Show, the Pollen company was still putting the final touches on its first product, an acrylic putter. Thankfully, the work was completed in time to present these eye-catching clubs to the public. Pollen's putters are constructed mostly of acrylic material, with steel or aluminum weights strategically placed to keep your wobbly stroke straight. They are also pretty. Intended to be a mesh of function and form, Pollen's initial release hits the mark. Designed to produce a high MOI (Moment of Inertia) the putters help you produce a more consistent stroke, increasing the likelihood your ball rolls where you want it. Pollen has put out two versions, one which is approved by the USGA, and one that is questionable, because it makes putting too easy (the MOI is off the charts). Opt for the legal "Mezzo" and add style to your game while subtracting shots.